News | Godparentship | Man as the place | Observations | Archive | Contact | Press| Links | Anna Hesselgren | Home
Articles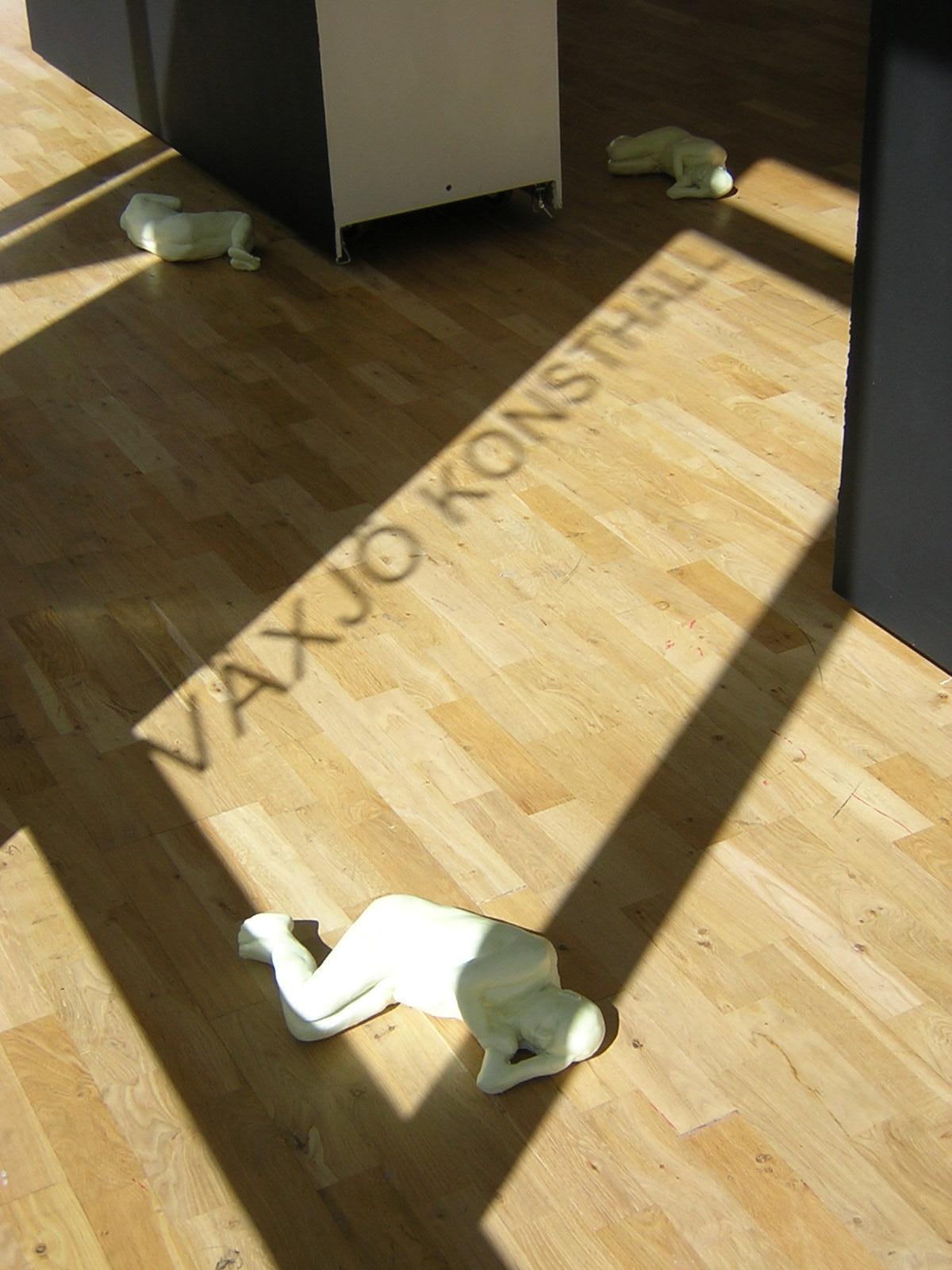 Article in the Swedish daily paper Smålandsposten 2009-06-30
Take-out art in the open air.
This weekend we celebrate "Spring in our city" and also the art is released in springtime.
Anna Hesselgren is an artist living in Stockholm who is here with the interactive project StillAlive - Man as the Place #3.
StillAlive is an installation and a special kind of temporary public art.
It all starts in the Art Hall. There there will be 20 objects, 30 cm long, lying in crouched positions.
After a few hours it's time for the outplacing ritual when 20 volunteers from Växjö will take one object each and place it out into the
city. Their mission is to find places with a certain architectural character.
-The objects will be exposed in a double sense (in Swedish exposed and outplaced are the same words), says Anna .
-They are not that big, you can carry them home. But to be able to keep them a return is required. You should give an amount to a
human aid organisation to become a godparent and thus a part of the art work. Here in Växjö I have also stated I wish the money
to go to people who has suffered in public space.
Underneath each object is written www.stillalive.eu and that's where you turn to find information about the project and whereyou
leave your own story if you want to become a godparent. Anna has shown StillAlive twice before in Stockholm.
Växjö is the third time time and then Helsinki and Berlin are being planned for.
-The project has many levels. It's about the human vulnerability. But it's also about me as an artist, that I wanted out, that I was
tired to just show paintings in galleries. I wanted to do something different. Placing the figures in the city creates also a whole
different audience. People literally stumble on the art. It 's also a discussion about democracy- do you have the right to put things
anywhere?
Do you have a political agenda, do you want to say something about homelessness?
-Yes, it's about homelessness, but in a wider sense, homelessness as a general idea, something we all can identify ourselves with.
How has people reacted on StillAlive earlier?
-They have been touched , and they liked it a lot. They want to bring them home and really take care of the small men/objects.
What are your hopes for Växjö?
- The project is so much without any preconditions and I don't know Växjö as a city. I don't know what will happen, but that is what
makes it so exciting. I don't have any expectations , but I'm full of hope.
Where shall one go to find the objects?
- In the city, in the center. You will have to search around awhile. The intention is that you should discover them accidentially.
Anna is established as an artist for many years. Mainly she has been working with painting and has participated in the art
performances of the late Kjartan Slettermark, a well-known Swedish performance artist. Now she brings forward StillAlive and her
own performance art group Gloria.
Camilla Carnmo
A Article in the Swedish daily paper Svenska Dagbladet the 2009- 01-20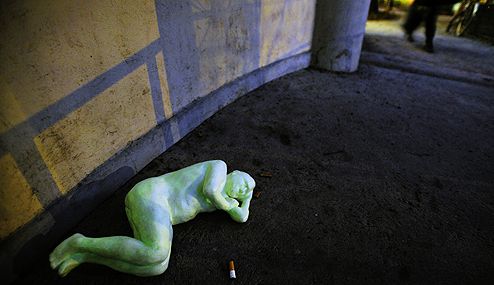 The artist Anna Hesselgren ooutplaced 30 small human beings in Stockholm last autumn. Half of them has until now been given a
godparent, the rest have been stolen or are still waiting to be found by a godparent.
During the winter many observant citiziens in Stockholm have become godparents. But not in an ordinary sense.
The artist Anna Hesselgren placed out 30 self-glowing figures around the city. Now the green men have moved in with the people
who picked them up.
Curious passers-by have recently wondered what kind of miniature men that suddley turns up in front of them in the street.
30 half a meter long green men, lying in fetal position, were placed out in October last year in different environments in
the city center of Stockholm as part of Anna Hesselgren's art project StillAlive - Man as the Place.
Many of those who have passed the figures - that really don´t look very much during daytime but that glow strongly when the
darkness falls - probably haven´t cared much or spent time to wonder what this little self-glowing man is doing in the street, in the
bushes or under the bench. But those that inspected the objects discovered on the side of the body an ingraved web adress where
the eventual godparent can read the instructions. In short: the one who gives an optional sum to a relief organisation and
thereafter gets in touch with Anna, will recieve a diploma of godparentship.
- I wanted to make an art project that meets its audience in public space. At the same time this project differs from the idea of
public art as it is only present for a short time because those that find the figures can pick them up and become owners of them,
she says.
We meet outside the entrance of Centralbadet. Here on the backyard one of the figures was lying , but now he is gone like the rest
of his self- glowing brothers. We walk into the café. Out of her bag Anna produces one of the figures she has saved, liberates it
from its cover and caresses it lovingly as she explains the background of the project
- I have been carrying this idea for some years now. The starting point is the fragility of the human being and the human body and
concerns both homelessness and the basic condition of the human being. We are exposed, vulnerable and naked creatures and I
want to enlighten our responsibility for each other. The responsibility is portrayed with accuracy through the godparentship.
Anna doesn´t demand how much money one has to donate nor to which organisation. She is satisfied that about half of the
objects have been adopted, but is hoping to recieve more answers in the mailbox soon.
One of those that have found a figure and become godparent is the architect Caj Ernelli who met Anna at her exhibition at the
Nationalgallery in August last year. He was so keen to find one that he kept asking her to give him some clues where to find it.
In the end she gave up and told him to search close to his home, nearby the Tekniska Nämndhuset on Kungsholmen.
-I went there every afternoon searching around and after a week all by a sudden it was lying there . I brought him home and put
him in a chair on a soft pillow. Then he got a cold and he looked so naked that I brought him an embroidered piece of cloth.
He is still sleeping there but we will see when springtime comes , if he moves out on the balcony, maybe. Caj Ernelli tells us that he
became engaged in the project as he thought it to be both exciting and different. He made his donation to the Nisti Sterk
foundation for starting an orphanage in the Kurdish part of Turkey.
On StillAlive's homepage many other expectant godparents have shared thier stories of how they took care of the figures that they
have found. Most of the godparents are men.
- Maybe it's not so simple for men to express their needs of taking care more openly, Anna argues.
StillAlive will continue next spring in Växjö in collaboration with the Växjö Art Hall. The project will be slightly modified compared to
Stockholm, as Anna isn't that aqcuainted with that city's geography. Those that will outplace he figures will not get as detailed
instructions as the ones in Stockholm got, which makes their participation in the project more important.
Anna says she learns a lot from the reactions she gets and that she will continue modifying the realisation for every new place,
because her intention is that StillAlive will continue for a long time in the future. After Växjö the plan is that Helsinki and Berlin will
get a visit from the greenpainted small men.
-One can say it's a life project , Anna finishes.
Article in the daily paper Dagens Nyheter 2008-08-14
Exhibition at Nationalgalleriet 2008- 08 -15 - 2008- 08 - 24
In what is the temporary studio of artist Anna Hesselgren some naked small figures of a man is lying in fetal positions , crouched
on a row next to each other. They lean their heads in their hands closing their eyes as if they were asleep.
The men are white and made of plaster. On the table there is another sleeping man , cast in the same mould but painted in a
greenish self- glowing colour. When Anna turns off the light in he glows almost as if he were a lamp. During the autumn about 30
of them will be placed around he city. But tomorrow the first part of many in the project "StillAlive" will open.
- "StillAlive" is an exhibition about the nakedness, loneliness and exposition that we all share as our basic life conditions. But it's
also a project about our need for being seen and our common responsibility for each other, Anna says.
The first part of the project take place at the National Gallery in the Old Town of Stockholm and consists of drawings and paintings
of the places whrere the figures will be put out. The second part will be performed at Weld later this autumn. There Anna will do
a performance where she places the figures in the room during an installation and then later places them all over the city, on
backyards and public places. There they will lay alone and exposed as homeless. As they glow in the dark they can be seen both
during night and day.
– I hope the the figures will be taken care of by people passing by. Each one will be marked with the address to my web site
www.stillalive.eu for further information. If you want to bring s figure home you can make a donation to an human relief
organisation and then you will recieve a diploma of the godparentship, Anna says.
How did you get the idea of the project?
–It all started with my own thoughts about my body´s fragility and the compelling of that fear. Then it all passed over to a more
general embracing thought about all our vulnerability. I am also inspired by the Greek philosopher Heraclitus who says that man is
the place for all processing and for the transition between the different states death and life, awakeness and sleep. There is always
a process going on in us of things that happens around us.These figurers lays in the city and process and at the same time they
remind us of our vulnerability and the importance of taking care of each other.
Pernilla Ahlsén
Notice in the daily newspaper Dagens Nyheter 2008-10-08 to announce
StillAlive - Man as the Place # 2
Installation and performance at Weld 2008-10-12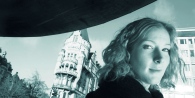 Pernilla Ahlsén chooses vulnerability.
Out in the street.

In August I wrote about Anna Hesselgren's exhibition "StillAlive". Then she showed 30 small self- glowing scupltures of a man in
fetal positions at the National Gallery. Now it's time for the second part where the scupltures will be outplaced in the city. The
figures will lay crouched and exposed and remind us about smallness and homelessness. If you give money to a organisation for
charity you are allowed to bring one home.
Pernilla Ahlsén
Weld, Norrtullsgatan 7, Odenplan, Sunday, 12 October at 3 pm.
Article in
monthly magazine
Situation Stockholm
October 2008
Adopt a glowing exposed figure.
In the city of Stockholm there are 30 small men lying in fetal position. Somewhere. Maybe in a corner, under a bush or by a bench in
the park. In the night they will glow.
-It's about human vulnerability, nakedness and homelessness, says the artist Anna Hesselgren about her project StillAlive - Man as
the Place. The 12th of October was the last time she saw her figures gathered.
At dawn they were wrapped in blankets and brought in silence to different addresses in the city during a ouplacing ritual.
They were left there in their loneliness.
– I hope that the people that find one of them will feel empathy, says Anna.
Unlike other kinds of public art the sculpture can be removed from its place. The founder can take care of the scuplture and by
making a donation to a human relief organisation become its godparent.
One of the organisations , Hand in Hand Sweden , writes in a comment: " It will be exciting to see the reactions on the project of
the citizens of Stockholm. Basically it's all about how we look at each other, if we look the other way or will give a helping hand.
Maria Hagström
StillAlive - Man As The Place # 2 - The installation in Weld´s room the 12th of October 2008 click here
StillAlive - Man As The Place # 2 - Film from the installation in Weld´s room click here
StillAlive - Man As The Place # 1 - Exhibition The National Gallery August 2008 click here
Various Photos click here